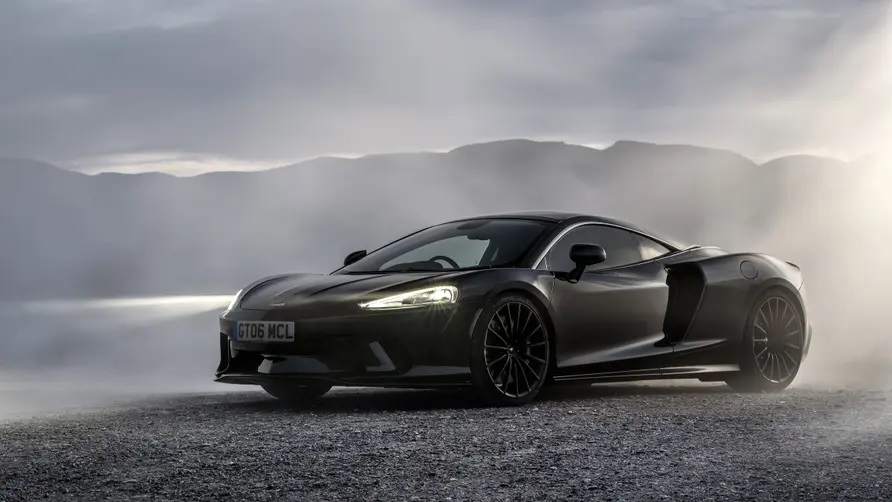 People probably think it will be a slow driving experience when talking about grand tourers. Still, the driving experience will be mesmerizing when it's a McLaren GT. The 2022 McLaren GT is a powerful and stylish vehicle that will turn heads and compete with similar vehicles like Bentley and Aston Martin. With its sleek design and impressive performance, the grand tourer will surely provide an unforgettable driving experience.
New 2022 McLaren GT Specifications
The 2022 McLaren GT is an exciting new addition to the company's line of sportscars. With a powerful engine, cutting-edge aerodynamics, cargo capacity, and state-of-the-art electronics, this car promises outstanding performance on both the road and the track. Here are some of its key specifications:
New Engine
The 2022 McLaren GT Coupe features a modified version of the 3.8L twin-turbo V8 engine found in other models in the McLaren lineup. Generating up to 612 horsepower and 465 lb-ft of torque, this powerful engine provides plenty of power while also delivering excellent fuel economy.
Transmission
The 2022 McLaren GT is equipped with a 7-speed seamless-shift transmission rear-wheel drivetrain, allowing for smooth and responsive gear changes during acceleration and giving more power to the rear wheels. The supercar also features McLaren's "Inertia Push" technology, which helps to optimize the engine's performance at high top speed with the best fuel economy.
Rear Wheels Suspension
The suspension system in the 2022 McLaren GT combines adaptive dampers and hydraulic roll control to get the throttle response. GT Coupe allows the cars to provide a comfortable ride on city streets while delivering precise handling on winding roads and the race track.
Aerodynamics
The 2022 McLaren GT's aerodynamic design helps it cut smoothly through even windy conditions on the road, with a low center of gravity that minimizes drag for increased speed and maneuverability. In addition, adjustable spoilers at each end provide optimal downforce during high speeds or sharp turns on a race track with inside rear wheel brakes for more control.
2022 McLaren GT Unique Design
The 2022 McLaren GT is an innovative new vehicle with a unique design and cutting-edge technology.
Interior Design
On the interior, the McLaren GT features premium materials that provide a comfortable and luxurious driving experience. With its ergonomic seats, intuitive launch control, and a wide array of connectivity options, this vehicle is ideally suited for modern drivers who demand top-of-the-line features. In addition, its infotainment system is inspired by private jets that give the new McLaren GT a sophisticated look.
Exterior Design
Looking at the exterior of the 2022 McLaren GT, it is clear that this car has been designed with aerodynamics in mind. Its streamlined appearance allows for efficient gas mileage even at high speeds. At the same time, its sporty body with dihedral doors helps to reduce lift and increase stability on challenging roads. With its distinctive contours and sleek lines, this car is sure to turn heads wherever it goes.
Technology Features
Every McLaren GT and GT Coupe comes packed with various high-tech features like a backup camera that allow drivers to have a better driving experience. The 2022 McLaren GT features include the following:
Built In-Navigation System
This car has a built-in navigation system, allowing drivers to easily find their destinations without needing external devices.
Adaptive Cruise Control
The adaptive cruise control in this vehicle can automatically adjust the car's speed based on surrounding traffic and road conditions, making for a safer and more comfortable driving experience.
Bluetooth Connectivity And Infotainment System
Drivers can easily connect their devices via Bluetooth and make hands-free calls or stream music while on the go.
Heads-Up Display
The 2022 McLaren GT also features a heads-up display, allowing drivers to access important information without taking their eyes off the road.
Overall, the 2022 McLaren GT offers an unbeatable combination of power, luxury, and cutting-edge technology. So whether you're looking for a comfortable ride on city streets or an exhilarating driving experience on the track, this car promises to deliver.
Safety Features
The 2022 McLaren GT car safety is astounding. It comes standard with front and rear ultrasonic proximity sensors that alert driving modes to objects in their path, giving them ample time to react and avoid collisions. In addition, several airbags throughout the cabin combine with a reinforced cockpit structure and crumple zones to provide unprecedented protection in case of an accident. Additionally, the 2022 McLaren GT has advanced sensors that monitor your surroundings and alert you to potential hazards. From front-end collision avoidance to automatic pedestrian detection, this car puts safety at the forefront of all its design decisions. With all these outstanding safety features, it's no wonder the 2022 McLaren GT is considered one of the securest vehicles on demand today.
Trim Levels Of 2022 McLaren GT Coupe
The 2022 McLaren GT is available in three different trim levels: the Standard Edition, the Executive Edition, and the Signature Edition.
Standard Edition
The 2022 McLaren GT Standard Edition is perfect for drivers who want all the basics without any added frills. It comes with all the standard features and two exterior colors.
Executive Edition
The 2022 McLaren GT Executive Edition is designed for those who demand the best of the best. It comes with all the features of the Standard Edition, plus a host of luxurious extras. These include upgraded leather upholstery, a power-adjustable steering wheel, and a built-in Wi-Fi hotspot.
Signature Edition
The 2022 McLaren GT Signature Edition is for discerning drivers who want to stand out. It comes with all the features of the Executive Edition, plus unique styling touches and exclusive color options.
Experience The 2022 McLaren GT At Miller Motorcars
If you're peeking for a grand and thrilling driving experience, the 2022 McLaren GT is the perfect car. At Miller Motorcars, we offer test drives of the 2022 McLaren GT, the perfect one for your needs. Our experienced team will help you choose the ideal options and accessories to make your 2022 McLaren GT unique. We also offer competitive financing rates and extended warranty plans for your investment. So, experience the power and luxury of the 2022 New McLaren GT today at Miller Motorcars. We promise you won't be disappointed.