New McLaren GT Luxe Available in Greenwich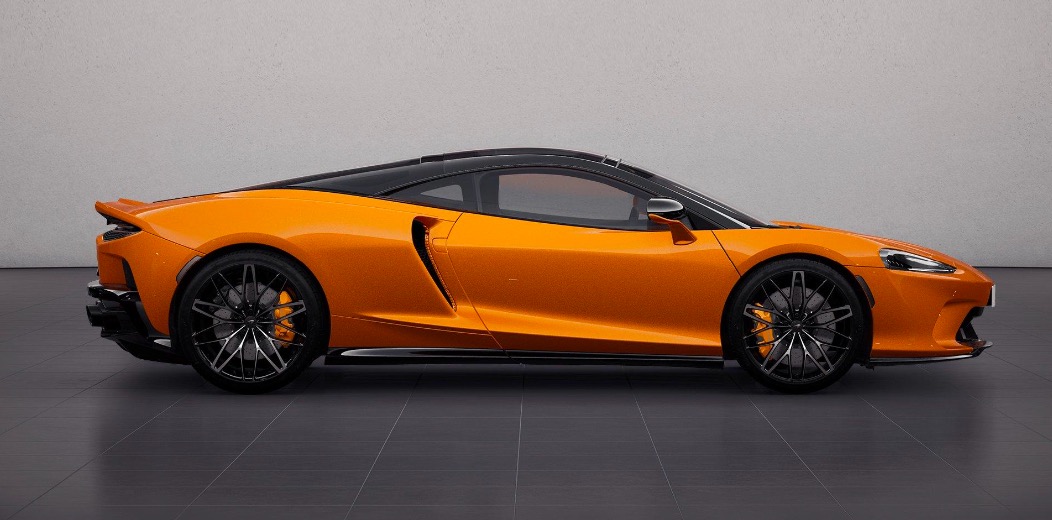 Greenwich, Connecticut, a town known for its richness and sophistication, is set to get a stunning addition to its already impressive landscape: the all-new McLaren GT Luxe. The McLaren GT Luxe is intended to redefine automotive excellence in this gorgeous enclave, where luxury is not simply a choice but a way of life. It's more than a car; it represents elegance, performance, and distinction. This amazing car reflects the ethos of a place where achievement is celebrated with flair as it graces the streets of Greenwich.
Let's go on a journey to discover the new McLaren GT Luxe's exceptional driving characteristics, opulent interior, and fascinating exterior—a vehicle designed to capture the hearts and desires of Greenwich's discerning elite. Prepare to enter the world of automotive perfection and discover why the McLaren GT Luxe is more than simply a car at one of the world's most exclusive locations.
Exterior Design
The McLaren GT Luxe's appearance is an exploration of elegance and grace. With its low-slung shape and sweeping lines, it exudes purpose and drive. The front fascia incorporates McLaren's characteristic "hammerhead" design, as well as prominent LED headlights that not only light up the road ahead but also add to the car's commanding appearance.
The butterfly doors, a signature feature of McLaren's design philosophy, open upward, giving a dramatic element to entering or exiting the vehicle. The back of the car is equally appealing, with sleek taillights and a sculpted rear diffuser that not only improves aerodynamics but also lends a bit of ferocity to the car's appearance.
Performance That Thrills
The McLaren GT Luxe packs a punch under the hood that will excite even the most seasoned drivers. This engineering marvel produces 620 horsepower and 465 lb-ft of torque thanks to a twin-turbocharged 4.0-liter V8 engine. The end result? The car accelerates from 0 to 60 mph in 3.1 seconds and has a top speed of 203 mph. Whether navigating Greenwich's twisting lanes or hitting the wide road, the McLaren GT Luxe offers performance that is nothing short of remarkable.
Adaptive Dynamics
The adaptive dynamics system is one of the primary driving elements that distinguishes the McLaren GT Luxe. This system constantly analyzes and changes the suspension of the vehicle, ensuring the ideal mix of comfort and performance. The McLaren GT Luxe reacts to your style of driving and the road conditions, offering a smooth and exhilarating ride whether you're cruising through Greenwich's quaint neighborhoods or pushing the car to its utmost on the track.
Luxurious Interior
Step into the McLaren GT Luxe and you'll find yourself surrounded by ultimate luxury. The inside exemplifies McLaren's commitment to excellence and dedication to detail. Handcrafted and wonderfully comfy leather seats make even lengthy travel a delight. The cabin is embellished with fine materials such as wood, carbon fiber, and aluminum, producing an unparalleled sense of richness.
The McLaren GT Luxe's interior is a work of art in terms of modern design and comfort. The cabin is meant to surround the driver and passengers in a comfortable setting, with every detail carefully examined. Every detail, from the high-quality leather upholstery to the finely made switchgear, oozes sophistication and refinement.
The basic design of the driver-centric interior includes a floating center console that stores the infotainment system and climate controls. The instrument cluster is a digital display that offers critical information in an easy-to-understand and customized manner. The leather-wrapped steering wheel incorporates paddle shifters for when you want to take charge of the car's gear changes.
Advanced Infotainment
A premium car in the modern world would be incomplete without cutting-edge technology. In this regard, the McLaren GT Luxe does not disappoint. It has a cutting-edge infotainment system with a high-resolution touchscreen, smartphone integration, and a superior sound system. Stay connected, entertained, and in command with everything at your fingertips.
Customization Options
The elite of Greenwich want a level of personalization that matches their own likes and preferences. The McLaren GT Luxe comes with a multitude of customization options. You may personalize your McLaren GT Luxe with a variety of exterior paint colors and bespoke interior accents. The car also features a range of engine tuning options, allowing you to adjust the performance characteristics, such as acceleration and gear changes, to suit your needs.
Practicality and Versatility
While the McLaren GT Luxe is a high-performance supercar, it also has a surprising amount of practicality and versatility. There's plenty of storage space for weekend excursions or shopping sprees at Greenwich's premium boutiques, thanks to a spacious baggage box in the back and a front trunk. This car isn't just for the pleasure of the ride; it's also made to blend in with your luxurious lifestyle.
Safety Features
McLaren understands the importance of safety, especially in a high-performance vehicle. The McLaren GT Luxe includes a number of innovative safety technologies, such as adaptive cruise control, lane departure warning, and a thorough airbag system. These characteristics provide peace of mind, whether you're driving around Greenwich or traveling across the nation.
Embrace the Future of Luxury Driving
The McLaren GT Luxe makes its grand arrival in the heart of Greenwich, where luxury is a way of life, offering an unequaled combination of opulence and performance. This is a car that will turn heads and set hearts racing, from its spectacular outward design to its breathtaking power and opulent interior. For auto aficionados looking for the ideal fusion of elegance and performance, the debut of the new McLaren GT Luxe in Greenwich represents a thrilling milestone. The attraction of the vehicle gains legitimacy from McLaren's standing as a company known for innovative engineering and precision design.
Furthermore, prospective purchasers can relax knowing that there are probably reliable and convenient financing alternatives available, making it simpler to own this dream car. The friendly and helpful staff at our dealership will likely make the entire buying experience better for customers by ensuring that they not only get their hands on this exceptional car but also enjoy it.