Rare 2015 McLaren P1 for Sale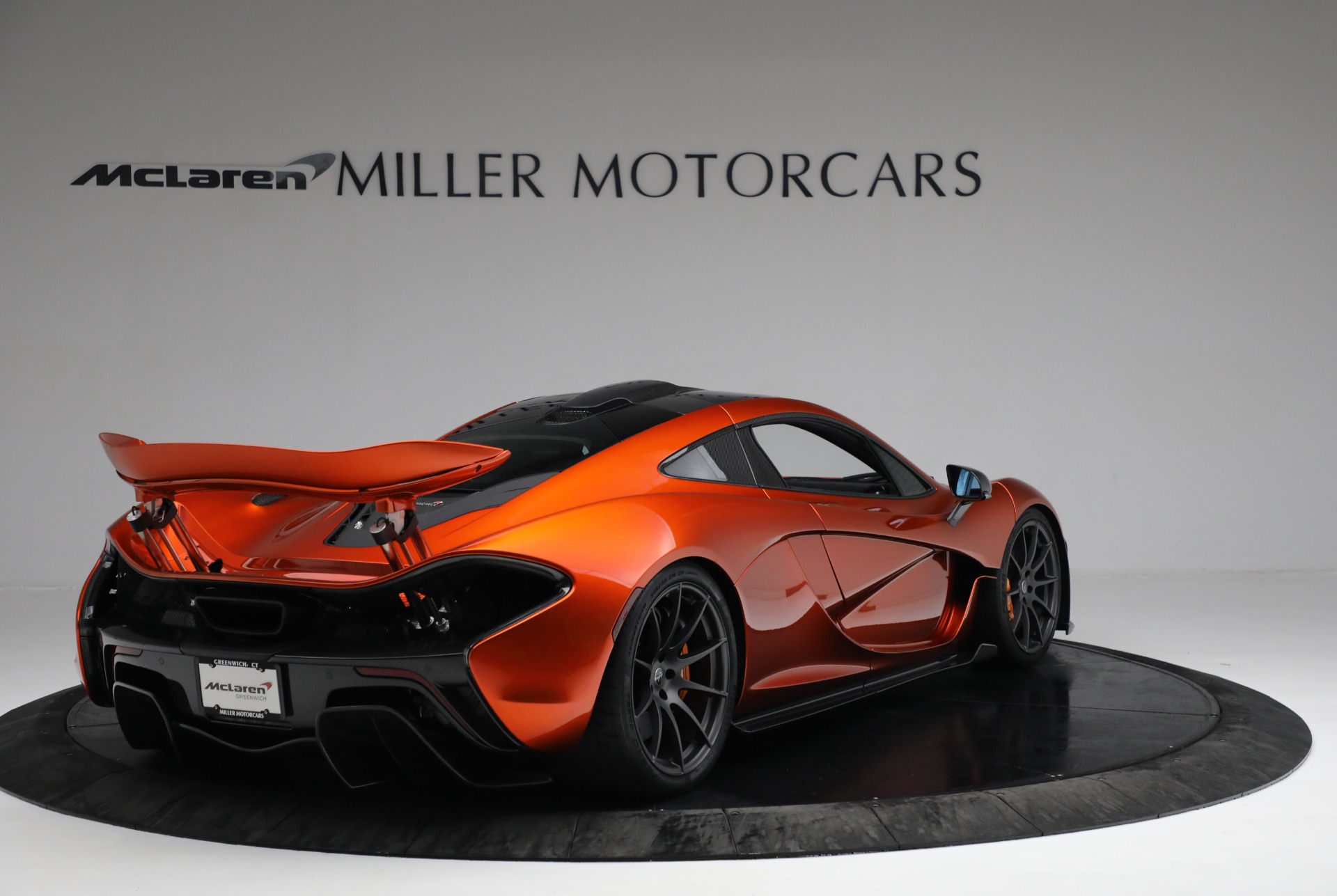 Step into the realm of automotive exclusivity with an extraordinary opportunity – a rare 2015 McLaren P1, now available for discerning collectors and enthusiasts alike. Nestled within the distinguished inventory of our dealership, this iconic masterpiece embodies the pinnacle of automotive engineering and design. As you delve into the details of this collector's grade McLaren P1, you'll uncover a blend of raw power, technological innovation, and unparalleled craftsmanship that defines its legacy. Embark on a journey to discover the remarkable attributes that make this particular McLaren P1 a coveted gem in the realm of high-performance automobiles.
The M1's Pulse-Grabbing Engine
With the 2015 McLaren P1, experience the peak of automobile engineering. With a 3.8-liter V8 engine delivering an incredible 727 horsepower and 531 lb-ft of torque, this masterpiece combines raw power with electrifying efficiency to accelerate you from 0 to 60 mph in a matter of seconds. The P1 embraces hybrid innovation and is equipped with an electric motor that adds an additional 176 horsepower and smooth torque. Its rear-wheel-drive design, lithium-ion battery pack, and 7-speed automatic transmission highlight its high-performance potential. The P1's cutting-edge architecture seamlessly blends adrenaline-inducing power with eco-conscious consciousness, charging in as little as 0.2 hours with a 400V outlet.
High-Performance Brakes
The McLaren P1 has state-of-the-art ceramic carbon composite discs in its high-performance brakes, which can absorb 50% more energy than traditional ceramics. Additionally, the cutting-edge Brake Steer technology improves cornering accuracy by providing brake force to the inner rear tire at entry, enhancing apex control, and optimizing traction via controlled torque distribution at exit. The McLaren P1 achieves unmatched levels of performance and control thanks to the integration of advanced brake technology and deft handling.
Meet Fuel Savvy and Sustainable Future
Embrace sustainable driving without compromising on exhilaration with the McLaren P1. Achieving an impressive combined fuel efficiency of 8.3 L/100km and emitting just 194 g/km of CO2, this automotive marvel seamlessly balances performance with environmental responsibility. With an electric autonomy of 11 km and a total range of 855 km, the P1 lets you experience both the thrill of the road and the commitment to sustainability. Whether you're pushing the limits on the track or cruising city streets, the McLaren P1 proves that cutting-edge engineering can coexist harmoniously with a greener future.
Inside Out Dimensions
Feel the ideal equilibrium of power and control thanks to the McLaren P1's well-thought-out proportions. With dimensions of 4,588 millimeters in length, 2,144 millimeters in width, and 1,188 millimeters in height on a 2,670-millimeter wheelbase, this engineering marvel provides dynamic stability and agility on every voyage. Track widths of 1,658 mm up front and 1,604 mm out back guarantee superb control. The P1's light weight of 1,395 kilograms belies its formidable power, greatly improving its maneuverability and reactivity. Two people can ride in comfort, and the interior features a 120-liter trunk and a 71-liter (16-gallon) fuel tank for long trips.
The Beauty Within- Refined McLaren
The P1 encompasses the intricate and thoughtful aspects that make up the inner essence of the car, focusing on aesthetic elegance, craftsmanship, and advanced engineering.
Comfy Seats
The interior of the McLaren P1 ensures no compromises between comfort and performance. The ultrathin carbon fiber shells of the lightweight chairs are both exceptionally strong and comfortable for long-time travel. These seats, which can be adjusted to 32 degrees to accommodate larger helmets, are fixed on lightweight brackets and feature an ideal 28-degree backrest angle. These lightweight seats (10.5kg apiece) are an excellent example of how design creativity, ergonomics, and performance can work together to create something truly remarkable.
Exclusive Material
The cabin of P1 is a stunning example of coolness. Carbon fiber, prized for its lightness, gives excellent effect to the interior trim. For optimal ergonomics, the DRS and IPAS controls are conveniently located on the carbon and Alcantara steering wheel. The three TFT screens that make up the instrument cluster are both aesthetically pleasing and functionally versatile, as they allow the driver a choice of four different modes that each convey different but equally important pieces of data.
Technological Advancements
The state-of-the-art systems in the McLaren P1 demonstrate why it is at the forefront of technological development. When it comes to hybrid powertrains, the IPAS electrical assistance system is among the most powerful and performs admirably even in the face of constant track use. The P1's active aerodynamics improve its on-road performance by allowing it to maximize downforce while decreasing drag. The P1 is a technological marvel that fuses performance and innovation thanks to the RCC (RaceActive Chassis Control) system, which brings a new degree of chassis adaptability by allowing for unparalleled alterations that suit different driving circumstances.
Aesthetically Pleasing Sports Coupe
The McLaren P1's exterior is a captivating symphony of purposeful design and aerodynamic ingenuity, resembling a poised racer with its low-slung body, elongated rear deck, and open-mesh rear styling that artfully showcases its mechanical prowess while ensuring efficient cooling. Its sleek profile reflects a lean philosophy, with an innovative internal tube that creates a lightweight structure by extracting excess air. The canopy design envelops the cabin in glass, evoking a fighter jet cockpit for heightened visibility and an immersive driving experience. The P1's exterior seamlessly merges form and function, embodying McLaren's commitment to crafting an aesthetically pleasing sports coupe that not only thrills with its performance but also engages on a visceral level.
The Exclusive McLaren Edition Can Be Yours Now
In conclusion, the 2015 McLaren P1 is a rare and remarkable gem that beckons to those who seek the pinnacle of automotive excellence. This collector's dream, carefully curated within our dealership's distinguished inventory, embodies the fusion of raw power, cutting-edge technology, and masterful craftsmanship. With a heart-pounding engine and an electric motor that combine to deliver astonishing performance, along with its dedication to sustainability through efficient fuel usage and reduced emissions, the P1 embodies the future of high-performance driving. Its thoughtfully designed dimensions, lightweight construction, and meticulously engineered interior ensure an unparalleled driving experience where every element contributes to a symphony of performance and aesthetics. Elevate your journey into the extraordinary by embracing the rarity, innovation, and sheer beauty of the 2015 McLaren P1, and visit us today to take the beauty home.